Rats and Cats, oh my! In this cafe, rats take care of orphan cats.
from http://www.huffingtonpost.com/entry/rats-kittens-brooklyn-cat-cafe_us_59664d4ee4b09b587d6421bc?section=us_weird-news
Please, no one tell Emile that most people consider cats and rats to be natural enemies.
The young brown rat appeared in an adorable, if surprising, Instagram video last week, tenderly bathing two kittens.
Emile and his friend, a gray and white rat named Remy, help out with kitten care at Brooklyn Cat Cafe, a feline-centric establishment in New York run by Brooklyn Bridge Animal Welfare Coalition. The cafe features adoptable cats and kittens from BBAWC, as well as a few from other local rescue groups.
So why is this nonprofit putting rats and kittens together? It all started two years ago with Ebony, an orphaned 4-week-old kitten who tested positive for feline leukemia. Staff didn't want Ebony to infect other cats, but the little feline needed companionship, Anne Levin, BBAWC executive director, told HuffPost.
The staff found a white rat who needed a home, and a beautiful friendship was born.
"Of course we named him Ivory," Levin said. "He and Ebony became great friends and would cuddle and romp in their crate."
#FFF; border:0; border-radius:3px; box-shadow:0 0 1px 0 rgba(0,0,0,0.5),0 1px 10px 0 rgba(0,0,0,0.15); margin: 1px; max-width:658px; padding:0; width:99.375%; width:-webkit-calc(100% – 2px); width:calc(100% – 2px);">

#F8F8F8; line-height:0; margin-top:40px; padding:50.0% 0; text-align:center; width:100%;">

https://www.instagram.com/p/BWPy0FagxXl/" style=" color: #000; font-family:Arial,sans-serif; font-size:14px; font-style:normal; font-weight:normal; line-height:17px; text-decoration:none; word-wrap:break-word;" target="_blank">Emile helps bathe the bottle babies. . . #catcafebk #adoptdontshop #ratsandcats #bottlebabies #kittens #spayandneuter #petrat #emiletherat #BBAWC

#c9c8cd; font-family:Arial,sans-serif; font-size:14px; line-height:17px; margin-bottom:0; margin-top:8px; overflow:hidden; padding:8px 0 7px; text-align:center; text-overflow:ellipsis; white-space:nowrap;">A post shared by Brooklyn Cat Cafe ????☕️ (@catcafebk) on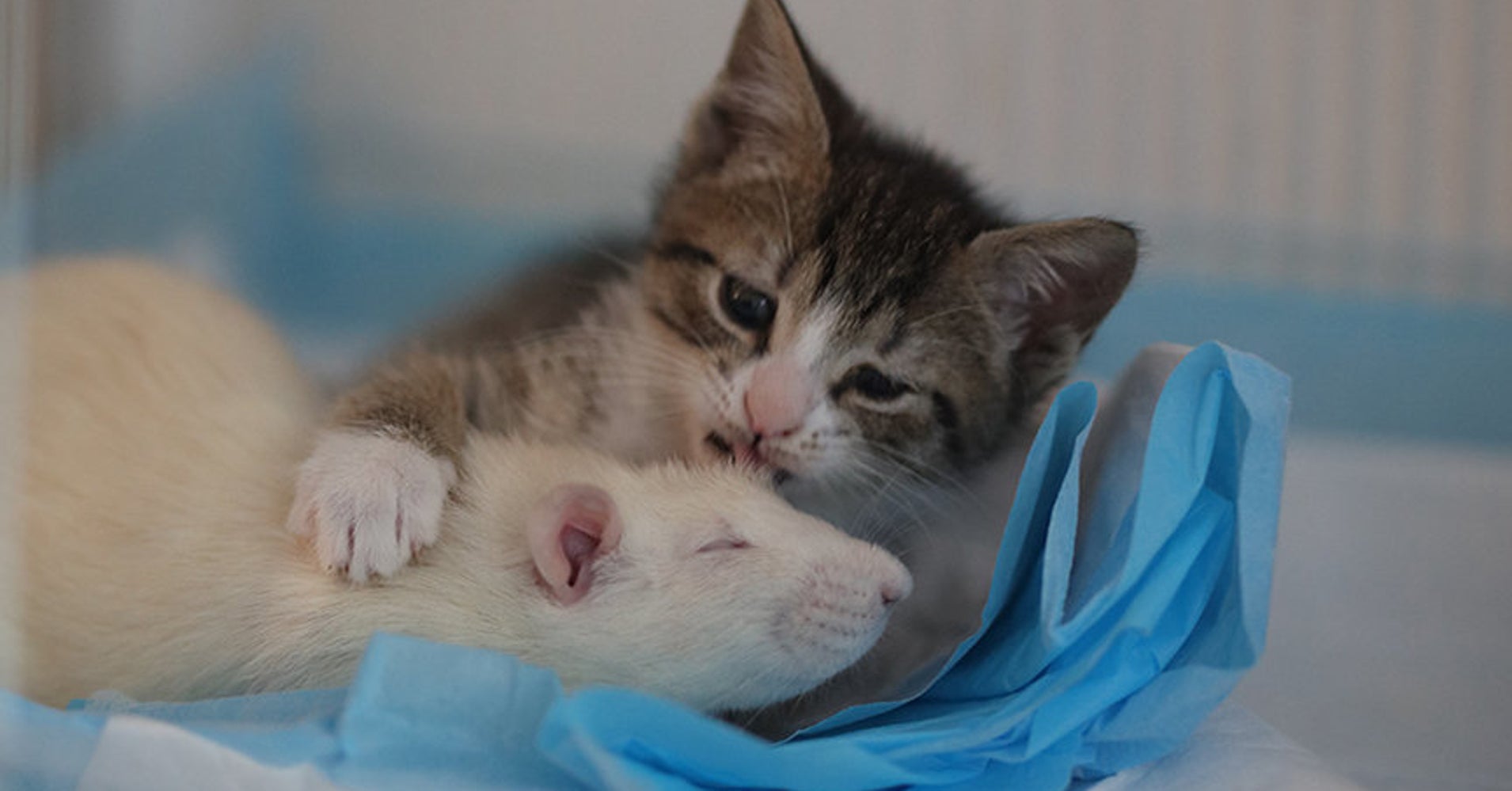 Fearless Rats Are Caring For Orphan Kittens At This Magical Cat Cafe
"It seems to be both a self-comfort and a friendship connection."